POSTDOCTORAL POSITION BASIC RESEARCH CENTER, BIOMEDICAL RESEARCH FOUNDATION, ACADEMY OF ATHENS
31 May 2021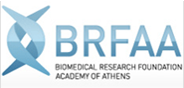 Expression of Interest
Position available: Postdoctoral position, Full Time. Funded by RIF, Cyprus.
Position objective: Transcriptional regulation in normal and ineffective erythropoiesis
Essential Education, Experience, Skills:
Candidates should have:
PhD degree in Molecular Biology or Molecular Medicine or other related Life Sciences degree and more than 5 years experience in Basic Research Laboratories.
Experience in molecular biology techniques (ChIP, recombinant DNA techniquescloning, RT-PCR, Western blotting, immunoprecipitation, cell culture, transfections, immunofluorescence) and computational pipelines for the analysis of ChIP-seq, RNA-seq and proteomics data.
Publications in peer-reviewed international journals. 
Candidates should also be able to:
Independently initiate, direct and execute scientific research.
Critically analyze data.
Supervise students in their daily experiments.
The call of interest for the position will be announced in www.bioacademy.gr. Interested candidates should send their CV to Dr. Eleni Katsantoni (ekatsantoni@bioacademy.gr).
SOURCE:
Biomedical Research Foundation, Academy of Athens